Here are some pictures of me and all my pets. I have a yellow lab named Sandy*, a Norwegian Forest cat named Moses, and two my two tiel roomies, Precious & Percy.

To enlarge picture, click on image. It will open a new window. Just close it to return.
| | | |
| --- | --- | --- |
| Get my Tail! | What?? Bath Time? Yahoo! | |
| | | |
| Now get under these wings....... | | |
Here are some pictures of me with my lab, Sandy, and sheltie, Tupper, who passed away on 9/6/2000 when he was 13.
*Sadly, Sandy left us on 8/20/06 ... she was 10-1/2 years old and died of liver cancer.
She loved to swim and got to swim every day this summer in our new pool.
Click here to see a video of her swimming shortly before she left us.
I will miss her!


I also have a really cute video of Moses, my cat, kissing Sandy and you'll hear ME in the background!
If you would like to see it, click here.

Relaxing in the Sunshine together


Racing down the hall.
(Birdie won of course ... with that airplane profile, how could he lose!?!)

Tupper, we will always love and miss you!

| | | |
| --- | --- | --- |
| Ready for a dip....... | And a few shots enjoying the fountain outside on the deck... | In the Lap of Luxury |
And of course, a few of my best shots:


Mom bought me two new playmates, Percy & Precious.

< Percy





Precious >





< Percy


Precious >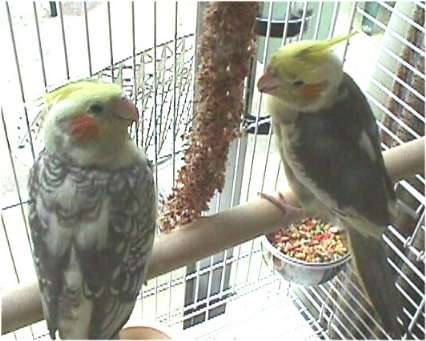 Percy & Precious
My Two New Friends





Here are some photos of my former lady love,
a beautiful lutino named Marigold, who flew away over the Rainbow Bridge unexpectedly. We had some great memories while she was here ...
We loved to share our peas ..... wait! I think he got more than me!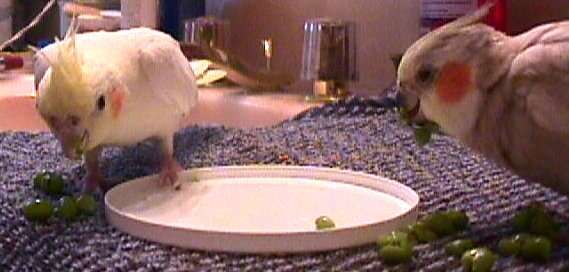 WHO has peas on her face??? Certainly not ME!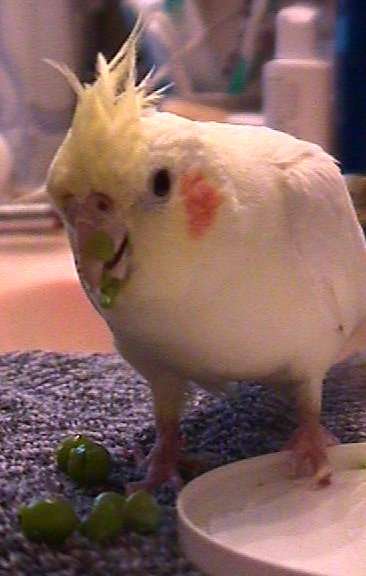 WE LOVE YOU MARIGOLD AND MISS YOU!!!
| | | |
| --- | --- | --- |
| | Who ARE these guys?? | |

Time for a little after dinner nap on Mom's shoulder.....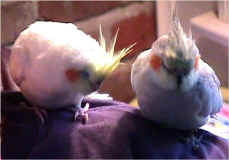 ---
Thanks for stopping by ...........

Visit our other favorite websites:

Tri-State Antiques (Mom's store)
Pictures of Some Wild Turkeys in our Yard
Copyright © CompuTrends Web Design