Welcome to Tieltunes
Birdie's Domain

~Listen to me singAndy Griffith

~Listen to mebark like my dog Sandy at
the wild turkeys walking through our yard!

~Listen to me wolf-whistling *I love this* Wolf Whistling

~Another version of Andy Griffith

~Another version of Andy Griffith (my favorite
song, so I have lots of different renditions!)

~Listen to my friend Cara's tunes...

Hint: To save a tune, right click on it with your mouse and select "Save Link As" or "Save Target As" and save it into your computer. It helps to create a special folder for them. You will need to have Windows Media Player or Real Player or some other music playing program installed in your computer that plays .wav files. Note: I have had several people email me that the tunes will play intermittently or with static on Real Player, so you may want to use a different player if you are having trouble with them. I prefer Windows Media Player.

Hi! My name is Birdie. Not very original, I know, but my owners couldn't agree on a name and before you knew it, I was answering to this. And whistling lots of happy tunes that they taught to me. Something that really helped me learn fast was the following tunes that they downloaded from the internet for me, so I thought I would share them with you. Enjoy!

Special Note from Birdie: I'm so glad that everyone is enjoying these tunes and that they are helping your birds learn to whistle. However, my bandwidth has grown at such a rate that it is now costing my mommy money to offer these tunes free. While she will still offer them at no charge for as long as she can, I would be extremely grateful -- if you feel your birds have benefited from these tunes -- if you could donate a small amount to help her keep the site operating. She hopes to be able to continue doing this without having to charge a mandatory fee for each download. I love all of you and thank you for making Tieltunes so popular! Please click below to donate through Paypal ... the amount is up to you and no amount is too small (or large!). Thank you!

Love, Birdie


I JUST RECEIVED WARNING THAT WE ARE AT 90% OF OUR BANDWIDTH ALLOWANCE. IF WE REACH 100%, I WILL HAVE TO TEMPORARILY SUSPEND THE TUNES. PLEASE DO NOT PLAY THEM FROM THIS PAGE ... SAVE THEM TO YOUR COMPUTER AS INDICATED AT LEFT. I DO NOT WANT TO HAVE TO SUSPEND THE TUNES, BUT I CAN'T AFFORD TO PAY FOR EXTRA BANDWIDTH. THANKS!


Have fun with them! And while
you're here, why not stop by my
Photo Album and check out
some of my cute pics? :-)

I live with my two buddies, Percy and Precious, and now Rosie has come to join us. Plus we have two fox red labs, Ruby and Ginger, and Moses the cat. Some of them are pictured on my Pets page.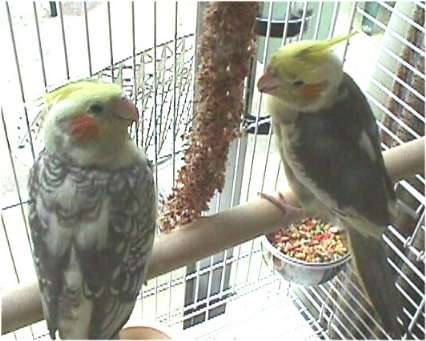 My precious Marigold has been taken away from me. She has gone over the Rainbow Bridge unexpectedly due to a problem metabolizing her food. We miss her terribly!
PERSONAL NOTE TO ALL THOSE WHO HAVE SENT PHOTOS: I apologize for the delay in getting some of your pictures posted. In January of 2004, we lost our 23-year old son, Bryan. The year since then has been hard for us but has sent us on a truly amazing journey. He has kept me busy on his memorial website where I have created an online journal of the miracles he has given us since his passing. Please pay him a visit at Bryan's Journal of Miracles.

I also just lost my dearest friend, our yellow lab, Sandy, who is pictured with me on my pets page. Sandy succumbed to liver cancer on 8/20/06 and is now in heaven with Bryan. She had a great summer, though, and got to swim every day! Visit my pets page to see a video of her swimming shortly before she left us to cross over the Rainbow Bridge.
............................................................... Birdie & Kathy
I am making LOTS of new friends on the internet! If you want to send me your picture, I'll be happy to add it to my album of friends. Meet them here:
Rosie Bird - Tiel

Birdie's Internet Friends

Paula, Peter & Charlie - Tiels

Baby Tiel

Shadow & Sherbet

Baby Cookie - Tiel

Baby Peeper - Tiel

Birdy - Tiel

Chicken - Tiel

Casper & Snowflake - Tiels

Camille - Tiel

Chikorita & Pikachu - Tiels

Cho Cho - Tiel

Daddy Rowdy & Mommy Powder - Tiels

Daddy Bucky

Dancer - Senegal Parrot

Digger - True Blue Australian Sulphur

Digger Eating Yogurt

Paulie - Blue Crown Conure

... Paulie Again

... And Paulie Again!

Max - Tiel

Jamie & Cher - Tiels

Mommy Tiki - Tiel

Mytana, Jack & Lisa - Tiels

Nicodemus (Nikki)

Owen - Tiel

Otis - Cockatoo

Otis & Bruiser

Otis & Dude

Lucy & Owen - Tiels

Sonny - Tiel

Petey McNugget - Tiel

Petree, Miss Priss, Daisy & Jazz Man - Tiels


Simmon - Tiel


Louie - Male Scarlet Macaw


Dusty from Scotland - Parrot


Lora - Lori Parrot


Tilly - Split-Pied Tiel


Lady Abigale - Tiel


Precious - Tiel


Tiki - Corella Cockatoo


Joey & Ranger - Tiel & Cat


Tiki Again - Corella Cockatoo


Clyde - White-Faced Tiel


Animas & Picasso -
Pearl-Pied Tiel & Pearl Lutino Tiel


Lucy - Tiel


Fred - Tiel


Samson - Tiel


Fred Again - Tiel


Rose Ann's Tiels


Spencer - Scarlet Macaw


Raptor & Jaws - Lovebirds


Booger - Whitefaced Grey Tiel


Merlin Water Skiing - African Congo Grey


Oliver - Tiel


Baby Sun Conure - How Cute!


Spaz - Sun Conure


Baby Sun Conures


Pretty Bird & Jinx - Tiels


Bailey - Tiel


Amy & Andy - Tiels



Newborn ET - Tiel
(Sister Toko at right)


Newborn Toko - Tiel


Sammy - Tiel


Pierre - Tiel


Patriotic Angel - Tiel


Bogey - Quaker Parrot


Amy - Tiel


Amy - Tiel


Amy - Tiel


Simon- Tiel


Sidney and Kirby - Tiel and
Bear-Eyed Cockatoo


Sweetie - Tiel


Buffy - Tiel


Buffy, Bert & Chico - Tiels


Miss E B


Larry- African Grey


Cinni & Cody - Tiels


Byrdie & Baby - Tiels


Zeus - Tiel


Tinker - Tiel


Enoch- Tiel


Sunny - Tiel


Topper - Tiel


Calpurnia - Tiel


The Famous Talking Cara - Tiel


Keiko - Tiel


Cosmo - Tiel


Chloe & PB - Tiel & Budgie


PB & Chloe - Budgie & Tiel


Chloe in Basket - Tiel


Bubba - Senegal Parrot


Tango - Tiel


Cayenne - Scarlet Macaw


Zuri & Ruka Moja - Tiels


Petree - Tiel (& Mommy)


Frankie - Tiel


Yoshie Bird - Tiel


Daddy Rukus & Baby Olie - Tiels


Splash - Tiel


Puddie - Tiel


Future Friends!


Emmie - Tiel
Send me YOUR picture too!
Be sure to include your name and what type of bird you are :-)
Here are some of my Favorite Links:
Tri-State Antique Center (Mom's Store)
Copyright © 2000 - 2017 CompuTrends Web Design